Overview of NRV Regional Plan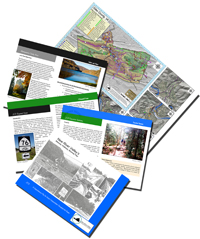 The 2011 Regional Bikeway, Walkway, Blueway Plan is here! The 2011 plan seeks to build on, supplement, and coordinate with existing plans. Furthermore, the plan is intended to be used as an information sharing resource - to provide better communication with local, state, and federal partners.
The 2011 plan was developed from the ground up, starting in early 2009. The Regional Bikeway-Walkway Committee led the planning process. The committee includes several local governments, local organizations, business owners, and folks that are simply interested in the topic.
The 2011 plan provided the PDC an opportunity to work closely with local and regional partners. Because of this partnership and interaction, the plan has a higher level of detail than previous plans. The final product provides the flexible framework needed to develop facilities based on local needs - while being aware of adjacent jurisdictions plans. Common interests may create opportunities for multiple stakeholders to work collaboratively on similar efforts.
While visiting this page, take a moment to explore the Interactive Google Map. The map showcases existing regional assets and access points. So strap on your boots, grab your bike or canoe, and start exploring the New River Valley!